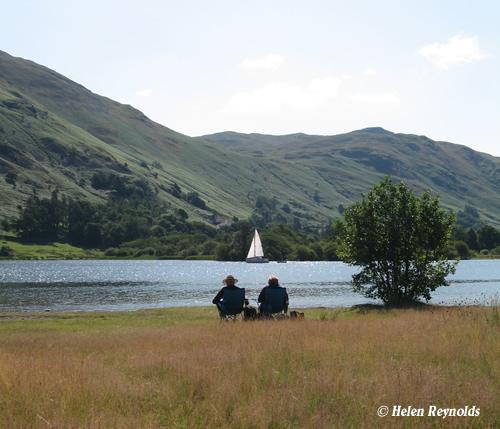 Many claim that this is England's prettiest lake and its easy to see why. There are plenty of little villages around the lake which are very popular with the tourists and visitors to the area.  Pooley Bridge is situated at the north end of Ullswater.  Glenridding and Patterdale are located at its south end.
Given its popularity with tourists the whole area is surprisingly unspoilt.  If you plan to drive to see this pretty lake there is some lakeside parking on the 591 between villages but sadly you will find it hard to get parked as there are only a few spaces here and there.
The waters are very clean and clear.  You will see that there are a range of activities and water sports available on the lake such as sailing, kayaking and fishing.  There are also steamers and boat trips available.

As with much of the more rural parts of the Lake District some of the roads are very narrow and are not much fun in the high summer season as you will have to add time to allow for the inevitable jams caused by the narrow roads.  This is particularly the case on the road towards Howtown (southern shore).  There is also very little parking at this part.  The best way to see the lake is to park a little distance from the shores and put on your walking boots and you will be treated to some spectacular views and vistas.  There is a 6 ½ mile lakeside path between Howtown, Glenridding and Patterdale.  This is very popular as there are no climbing skills required.
If you do plan a walk in the area there are some truly beautiful places to stop for a picnic, take photos or just soak up the view.